Yamaha Subwoofer System NS-SW300
A design combining superior operability and beauty. And introducing a new technology, Twisted Flare Port, for clear and tight bass. A subwoofer that will match a wide range of speakers and interiors.
PWM digital drive high efficiency amplifier and dual feedback circuit
New Twisted Flare Port contributes to clear and tight bass
Advanced YST II (Yamaha Active Servo Technology II)
New Twisted Flare Port Produces Clear and Tight Bass
The all-new Twisted Flare Port takes advantage of extensive subwoofer development experience. The flared, gently twisting shape diffuses the vortex of air generated around the edge of the port, creating a smooth flow of air. This reduces extraneous noise not present in the original input signal and provides clear, accurate low frequency reproduction. From special effect sounds in movies to the atmosphere of a live venue, you hear bass that is clear, tight and realistic.

Advanced YST II for Awesome Deep Bass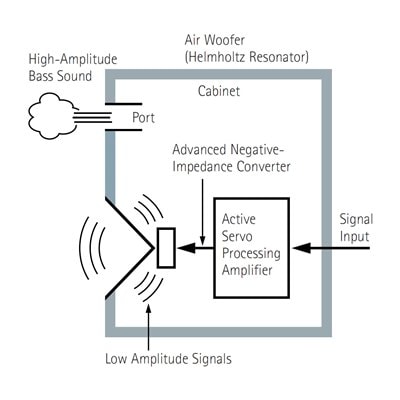 Developed by Yamaha, the Advanced YST II (Yamaha Active Servo Technology II) combines negative-impedance and constant-current principles to drive the speaker cone with even tighter control than the previous version. Using Advanced Negative Impedance Converter (ANIC) circuits, this system dynamically optimizes effective speaker impedance to maintain excellent linearity. This means more stable and accurate low range response, not to mention higher sound quality.