SIEMENS iQ300 free Standing Fridge KS36VVW30G
Refrigerator with hyperFresh Box to keep fruit and vegetables fresh longer, plus easyAccess Shelf, the pull-out glass shelf for easier loading.
Fruit and vegetables stay fresh longer in the hyperFresh Box thanks to the humidity slider.
The easyAccess glass shelves make loading easier and give you a better view of your food items.
Electronic temperature control: set the target temperature clearly and easily.
The LED lights up the interior brightly and evenly, without dazzling.
An A++ cooling appliance works very efficiently.
Store bottles safely: the bottleRack.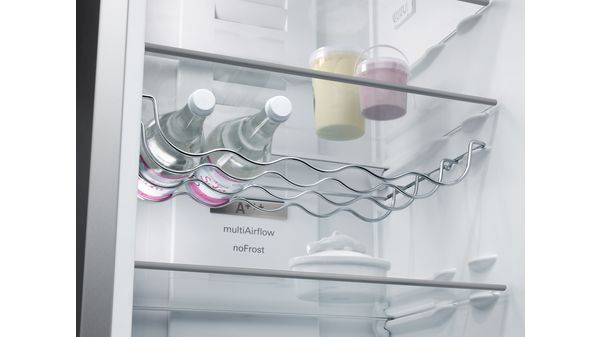 You can safely store bottles in the removable stainless steel bottleRack without them rolling back and forth. Now also for large and small bottles and for cans.
Stable temperature: superCooling.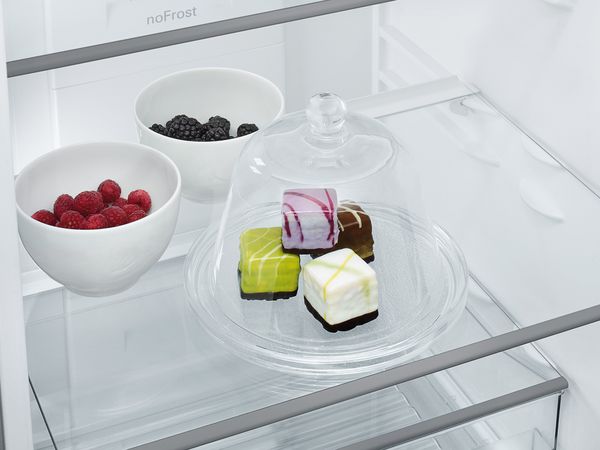 You can use the superCooling button to quickly reduce the temperature in the refrigerator to +2 °C. This prevents an undesirable rise in the temperature of your already chilled food whenever you add food that is not as cold.
Performance and Consumption
Energy Efficiency Class: A++ at a range of energy efficiency classes from A+++ to D
Energy Efficiency Class: A++ kWh/yr: 0.306 kwh
Total net capacity: 346 litres
Noise level dB(A) re 1 pW: 39
Food freshness system
vitaControl – constant temperature by intelligent sensor technology – Constant temperature control by intelligent sensor technology
Active cooling – quick and even temperature distribution on all shelf levels (interior fan)
Dimension and installation
Transportation handles
Height adjustable feet in the front
Climate class SN-T (suitable for ambient temperatures between 10 to 43°C)
Dimensions: 186 cm Height